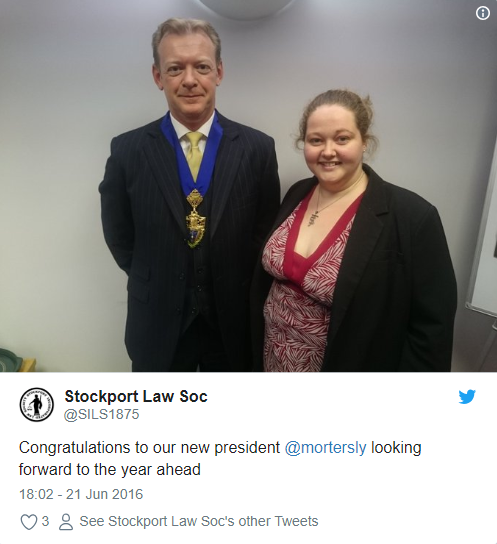 CONGRATS TO SIMON MORTON, NEW PRESIDENT OF STOCKPORT INCORPORATED LAW SOCIETY 1875
Wednesday, 22 June 2016 08:36
Today we are delighted to confirm that Simon Morton, managing director of this practice has been appointed as the new President of Stockport Incorporated Law Society 1875.
Simon was widely acknowledged for his leadership of the successful campaign to keep Stockport Courthouse open. Since 2012 Simon had been the criminal law representative on the committee for Stockport Incorporated Law Society, and more recently the Public Relations and Parliamentary Liaison Officer.
The team at Mortons Solicitors are delighted with Simon's well deserved appointment. Our Managing Director Simon Morton is a duty solicitor and solicitor-advocate, representing both private and legally aided clients.
He specialises in motoring offences and regulatory crime including coroners inquests, white-collar fraud, and prosecutions by Health & Safety Executive (HSE), Financial Conduct Authority (FCA), HMRC, Environment Agency.