Changes Made To Strengthen The Voyeurism & "Upskirting" Laws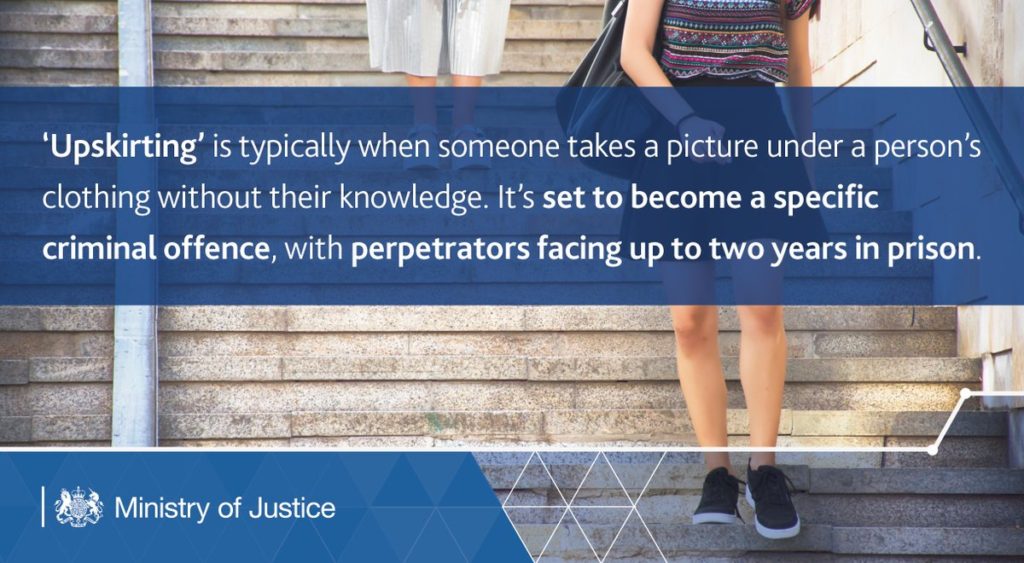 LAWS CHANGED TO TAKE "UPSKIRTING" INTO CONSIDERATION.
The Voyeurism (Offences) (No 2) Bill colloquially known as "The Peeping Tom" Law has completed its parliamentary journey on 15th January 2019 and is in line to receive a Royal Assent.
The amendments create new criminal offences.  As such, convention at this point is that at least two months will pass before the offence comes in to force.
POLICE STATION / LEGAL REPRESENTATION
If you have been invited into a police station for an interview, or if you have been arrested in connection to an "upskirting" offence, it is important you seek legal advice as soon as possible. Please contact us on
0161 477 1121
or contact us for more details.
Why Has The Law Been Updated?
This new law deals with 'upskirting', which is:
'…the practice of taking a photograph up a person's skirt or clothes without their consent.'
Prior to updating the law, Parliament was informed that;
"The law in England and Wales does not contain a specific criminal offence for upskirting, and the practice is currently prosecuted under one of two offences: outraging public decency (OPD) or voyeurism. OPD requires that an offence is: "lewd, obscene and disgusting to such an extent as to outrage minimum standards of decency"; two or more persons (excluding the perpetrator) must be present during the act or display, whether or not they are aware of the act or display or are outraged by it; and it must occur in a public place.

Alternatively, the voyeurism offence, contained in section 67 of the Sexual Offences Act 2003, stipulates that a person commits an offence where, for the purposes of sexual gratification he/she observes, operates equipment with the intention of enabling another person to observe or records a person doing a private act, knowing the person does not consent. The offence also covers installing equipment to enable either themselves, or another person, to commit an offence of voyeurism."
With a greater user of mobile technology, the increase in instances of "upskirting" has lead to concerns that the current laws are inadequate due to the legal requirements necessary to bring the action within the scope of one of the 2 possible offences.
In addition to this, as it stands, because neither of the two options is a sexual offence, any offender will avoid notification requirements (commonly referred to as being put on the sex offenders register).
WHAT CHANGES ARE BEING MADE?
A new section 67A will be inserted into the Sexual Offences Act 2003.
New section 67A subsection 1 would mean that a person (A) commits an offence if they operate equipment beneath the clothing of another person (B) to allow either themselves or another person (C) to observe person B's genitals or buttocks or the underwear covering them, in circumstances in which they would otherwise not be visible.
Subsection 2 pretty much echoes the provisions of subsection 1 and would mean that a person committed an offence where a person (A) records an image beneath the clothing of another person (B) which is of B's genitals or buttocks, or the underwear covering B's genitals or buttocks, in circumstances where the genitals, buttocks or underwear would otherwise not be visible.
For both offences person A would operate equipment or record an image without B's consent and without reasonably believing that B consented. In addition, under subsection 3 the purpose of person A in operating equipment (subsection 1) or recording an image (subsection 2) must be:
obtaining sexual gratification (whether for A or C);
humiliating, alarming or distressing B.
These new offences are triable. The maximum sentence involved would vary  (in a magistrate's court) would be six months', or a fine, or both.
If the case goes to the Crown Court, the maximum sentence would be two years' imprisonment.
Will Offenders Be Placed On The Sex Offenders Register?
The new Act now also allows that in certain circumstances offenders could be placed on the sex offenders register. These circumstances are:
For offenders aged over 18-years old: the offence was committed for sexual gratification and either the victim was under 18, or the offender has been sentenced to imprisonment; or detained in hospital; or made the subject of a community sentence of at least twelve months.
For offenders aged under 18-years old: the offence was committed for sexual gratification and the offender is or has been sentenced to imprisonment for at least twelve months.
How can we help?
We can assist you with all queries relating to Voyeurism & "Upskirting" Charges. We have a team of specialist solicitors who deal with sexual offences.
As always, this is only a general overview of the law. For more detailed, confidential advice, then call Morton's Solicitors on 0161 477 1121 or email us now to get in touch and discuss your circumstances.